Epermarket - Community Marketing Manager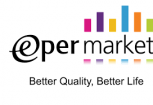 Epermarket is one of China's fastest growing online supermarkets, specializing in imported as well as safe, local products at competitive prices. ISO-certified, they also test their fresh products with SGS, and run their own organic farm, Eperfarm. Selecting from over 7,000 products from around the world, you can have your products delivered directly to your door.
We are expanding a variety of community based marketing roles. The main responsibility of the marketing team is to develop Epermarket's brand awareness in the community, to acquire new customers and retain existing customers. We are a small fun, passionate, international team, always dedicated to go the extra mile to reach our goals and we are looking for people willing to do the same. We are now looking for an enthusiastic French speaking Community Marketing Manager. For a detailed job description, please see attached document.