china color contemporary photographic exhibition
China in color - Contemporary Photographic Exhibition
11-16-2018 6:30 PM - 11-16-2018 9:00 PM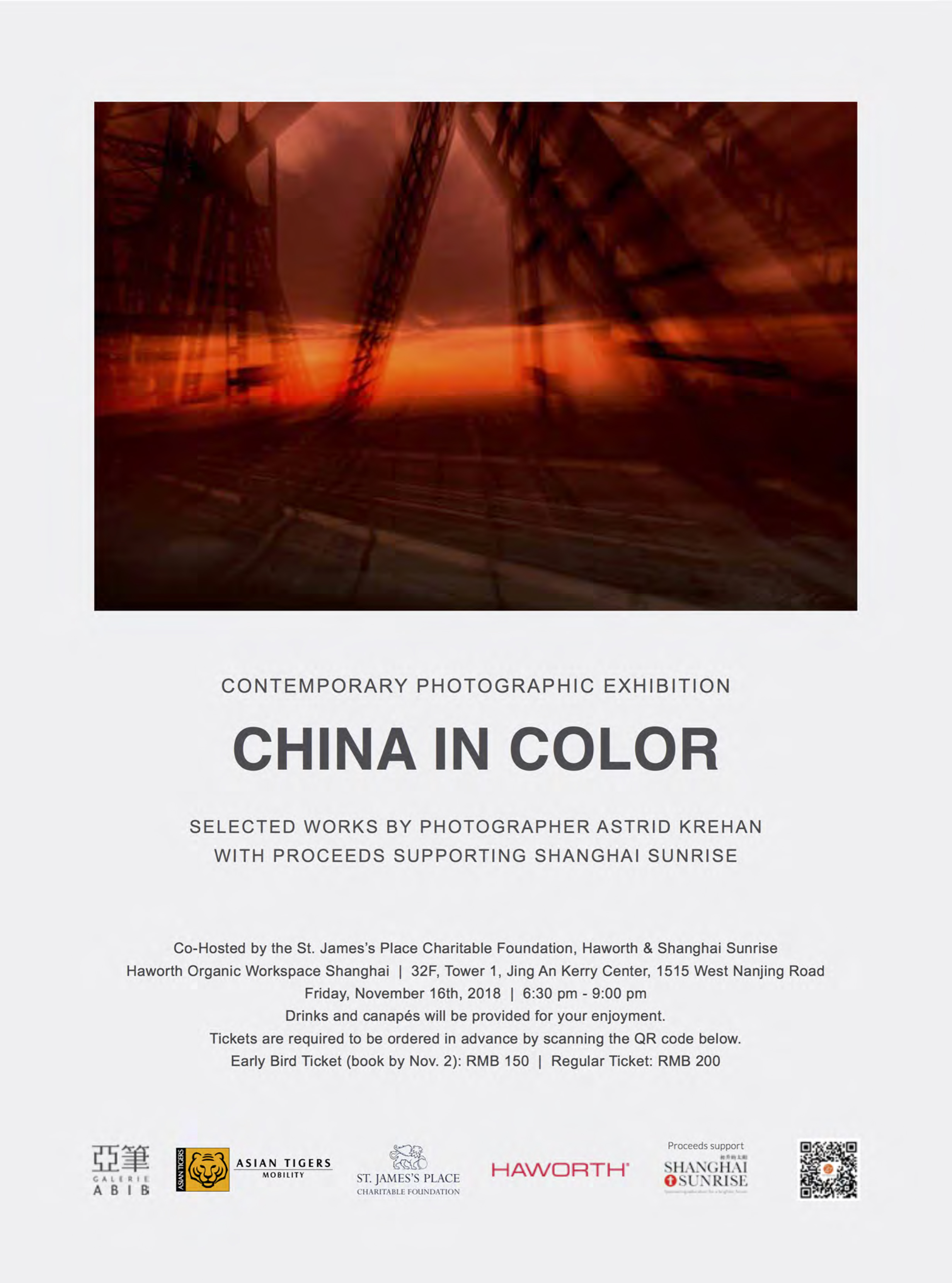 Event details
Haworth and St. James's Place Charitable Foundation are delighted to present "China in Color", an exclusive one-night photo exhibition of selected works by photographer Astrid Krehan. This series of highly-saturated color images explores the unique lights and textures that have caught Astrid's eye in China and are presented in her signature, high quality aluminum-backed Plexiglas®acrylic face mounting style. All images on display this evening are for purchase. Proceeds from sale will support Shanghai Sunrise, a charity that dedicates its work to support underprivileged youth in Shanghai. This luxury charity event is hosted in the beautiful Haworth Organic Workspace in the Jing'an Kerry Centre. Drinks and canapés will be provided for your enjoyment.
About the photographer
Born in Nuremberg, Germany, Astrid Krehan's original works convert modern-day spaces and objects into highly saturated color images. Her fluid series often verges on the abstract, whether capturing the tranquility of rural China or the vibrant aura of Shanghai, where Astrid has lived and worked since 2014. Astrid studied with renowned photojournalist Scott Davis, traveling to remote destinations to hone her skills and subsequently refining her own visual and conceptual vocabulary, which emerges through her play with light and texture. Her images are printed on high quality Hahnemühle Fine Art Paper, coated with Plexiglas® acrylic face mounting on aluminum backing. A doctor of natural sciences, Astrid's photographs reveal a compassionate understanding of the living world. To view more work by Astrid Krehan, please visit www.astridkrehan.com.
Astrid Krehan is a Board Member and Lifetime Platinum Benefactor of Shanghai Sunrise.
About Shanghai Sunrise
Shanghai Sunrise is dedicated to breaking the cycle of poverty by raising funds for educational scholarships and life skills programs for underprivileged and at-risk young people. Since 1996, with the help of more than 1,000 sponsors worldwide, Shanghai Sunrise has raised over RMB 28 million, creating almost 11,000 high school and university scholarships and helping over 2,500 students and their families.
About Haworth
Haworth is a privately held, global leader in the contract furnishings industry. We are committed to sustainability, as well as the health and well-being of people around the world. Driven by foundational values to serve global markets and the communities in which we live, we strive to operate our business consciously—with purpose and responsibility. As our organization continues to evolve, it is our core values that bring balance to all that we do.
About St. James's Place Charitable Foundation
This is the charitable arm of St. James's Place. Since its inception, the St. James's Place Charitable Foundation has raised and gifted over £75 million across charities and communities, globally.
Notice
Early bird tickets available if you book before November 2nd!
Date:
November 16, 2018
Time:
18:30 - 21:00
Location:
Haworth Organic Workspace, 32F, Tower 1, Jing'an Kerry Centre, 1515 West Nanjing Road, SH
沃 健康空间,南京 1515号静安嘉 中 1座32楼
Price:
Early Bird Ticket RMB 150
Regular Ticket RMB 200
---
Coal, 2017 / 90cm x 135cm
Printed on Hahnemühle Fine Art Paper, Plexiglas® acrylic face mounted, aluminium backing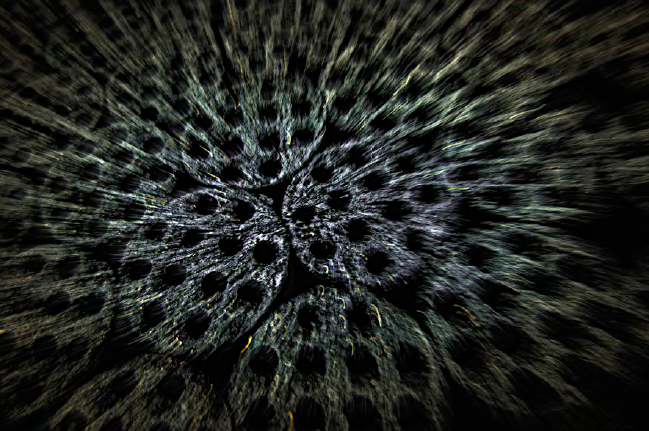 © Astrid Krehan
---
Orange Door, 2015 / 60cm x 51cm
Printed on Hahnemühle Fine Art Paper, Plexiglas® acrylic face mounted, aluminium backing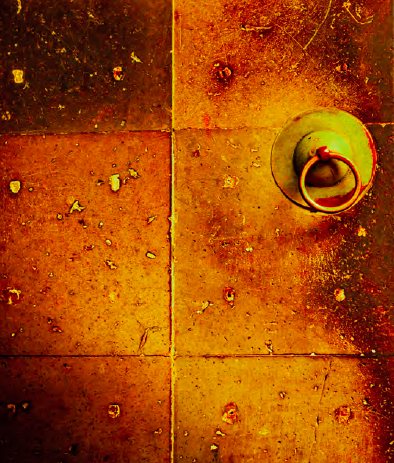 © Astrid Krehan
---
Aurora, 2017 / 120cm X 180cm
Printed on Hahnemühle Fine Art Paper, Plexiglas® acrylic face mounted, aluminium backing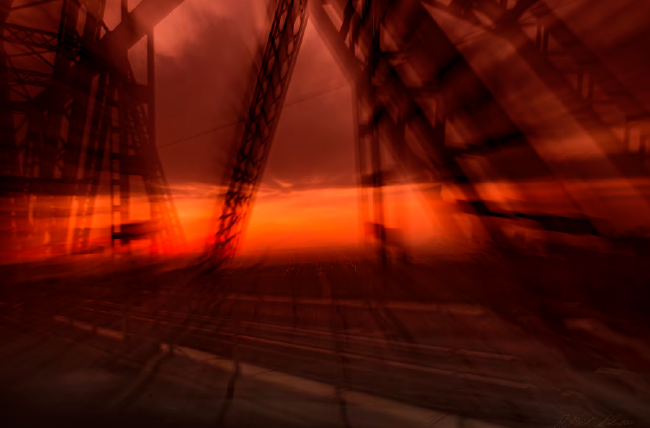 © Astrid Krehan
---
Shanghai Lights, Series 1, 2018 / 89cm x 58,7cm
Printed on Hahnemühle Fine Art Paper, Plexiglas® acrylic face mounted, aluminium backing
© Astrid Krehan
Venue Name
Haworth Organic Workspace Shanghai