2023 Trading Trends & Numbers Between Netherlands & China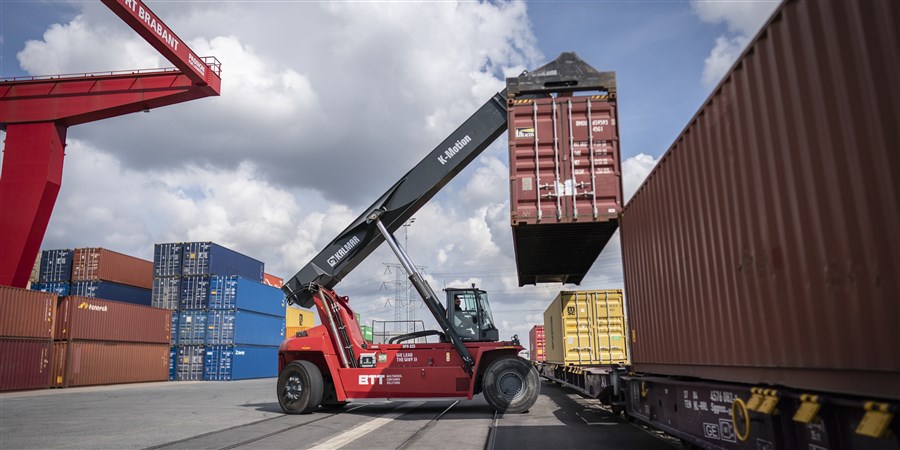 © ANP / John van Hamond
In the ever-evolving world of international trade, the Netherlands finds itself at the crossroads of a changing trading relationship with China. The dynamics of import and export have shifted in the first seven months of 2023, offering valuable insights into the trade landscape. Let's delve into the key developments and their implications.
Import Woes, Export Success
From January to July 2023, the Netherlands imported nearly €70 billion worth of goods from China, marking a decrease of almost €5 billion compared to the same period the previous year. Notably, the import of computers and phones showed a decline. However, in contrast, the Netherlands witnessed a 16% increase in goods exported to China, totaling €11.8 billion. These insights are based on data from CBS and Eurostat.
The dip in import value follows a remarkable increase of €17 billion in 2022, partly attributed to rising prices. It's essential to dissect why Chinese imports have decreased, considering the consequences.
The broader European Union story mirrors the Netherlands' experience. In the first seven months of 2023, the EU imported over €45 billion less from China, dropping from €352 billion to €306.5 billion. A significant portion of this decline can be attributed to Germany, with a 43% reduction in Chinese imports, falling from €77 billion to €57 billion.
Intriguingly, while Germany led the EU in importing goods from China during the same period in 2022, the Netherlands claimed this position in 2023. However, it's crucial to note that around half of these goods were swiftly re-exported to other nations. Telephones, computers, and semiconductors were among the primary imports, with the import value of phones and computers decreasing while that of semiconductors increased.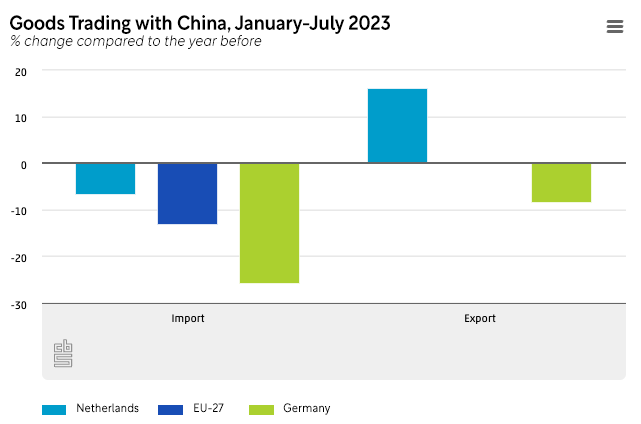 Contrastingly, the European Union's export of goods to China remained relatively stable. Germany, with nearly €58 billion in exports, retained its position as the largest EU exporter to China. The Netherlands' export growth to China primarily stemmed from machinery and equipment, pharmaceuticals, and medicinal products.
The share of China in Dutch goods imports (excluding transit) surpassed 10% in 2020 but fell back to 9% in 2022. Moreover, Dutch companies are importing relatively fewer raw materials and semi-finished products from China. In 2020, 6.8% of such imports came from China, but by 2022, this had decreased to 5.1%, even lower than the 2015 figure of 5.5%.
The service sectors, particularly IT and information, financial, and business services, displayed a reduced dependence on Chinese imports in recent years. For example, in 2019, the IT and information sector sourced 32% of its raw materials and semi-finished products from China, but this dropped to 17% in 2022. Among all Dutch sectors, the telecommunications industry remained the most reliant on Chinese imports for production, at nearly 29%.
Export Earnings to China Slightly Dip
In 2022, the Netherlands earned almost €7.1 billion from exports to China, a marginal decrease of €31 million (0.4%) compared to 2021. This drop resulted from a decline in service exports (-€432 million), while earnings from goods exports increased (+€400 million).
Machinery and equipment, especially chip machinery, were the most profitable goods in Dutch exports to China, generating €1.5 billion. Other successful exports included prepared foods (such as baby milk powder) at €1.1 billion and meat at €379 million. The top gainers in 2022 were prepared foods (+€370 million), machinery and equipment (+€192 million), and semiconductors (+€174 million). Conversely, there were declines in export earnings for pharmaceuticals (-€122 million) and automobiles (-€95 million).
Intellectual Property Challenges
The 2022 decline in export earnings to China was primarily due to a reduction in earnings from intellectual property (royalties), amounting to -€511 million.
The shifting trade dynamics between the Netherlands and China in 2023 offer a glimpse into the evolving landscape of international commerce. While imports from China have declined, Dutch exports to China are on the rise. The nature of this transformation indicates not only changing consumer demands but also evolving global trade strategies. Dutch companies are navigating these shifts while striving to maintain a competitive edge in the ever-expanding world of international business.