Philips Greater China unveils their new headquarters
A New Journey of Innovation
Philips Greater China Unveils New Headquarters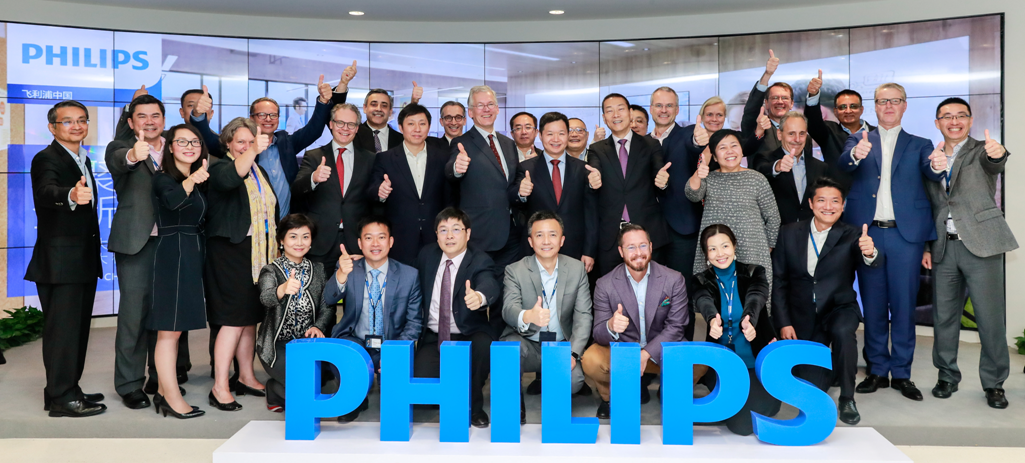 After nearly one year of preparations, Philips Greater China finally moved its headquarters to the new campus in Daning, Jing'an District, Shanghai in late October. On November 16, 2017, an inauguration ceremony was held at Ninghui Square, where Party Chief Mr. An Lusheng joined Mr. Frans van Houten, CEO of Philips, and Mr. Andy Ho, CEO of Philips Greater China, in unveiling the new headquarters. This milestone moment was also witnessed by media representatives and Philips employees.
Mr. Andy Ho first extended a warm welcome to participating leaders and guests and expressed gratitude to the government of Jing'an District for its strong support to the company. "The completion and operation of our new campus is expected to speed up Philips China's transition to 'digital integrated solutions'. The concepts of 'integration' and 'digital innovation' have been well reflected in the functional set-up and spatial design of the new campus, which not only houses all the businesses and functions of Philips China, but is also designed to create a fully digital office environment that is wireless, connected and mobile. Our employees will be able to work at any place in the office area, and colleagues from different businesses and functions can communicate freely with each other. In this way, we can eliminate the bounds and barriers among internal departments and build a high-performance culture that emphasizes collaboration and cooperation. Through joint innovation between internal and external teams, we can co-create integrated solutions with our clients," he said.
Party Chief Mr. An Lusheng then extended a warm welcome in his speech to Philips, a Fortune 500 company, for selecting Daning, Jing'an District as the host of its new headquarters. "As a world famous multinational company, Royal Philips not only possesses great economic strength, strong innovative capabilities and a highly respected brand, but also demonstrates a strong sense of social responsibility. As a star company in Jing'an, Philips has contributed significantly to local economic progress and technological innovation. Today, Philips is transitioning towards a company that combines the Internet and healthcare. The completion of the new headquarters of Philips Greater China is expected to accelerate local economic transition, create new sources of growth and inject new vitality to Jing'an District by facilitating the convergence of different sectors and the creation of new business models in surrounding areas," he said.
The inauguration ceremony was also witnessed and celebrated by CEO of Philips, Mr. Frans van Houten and other executive members. "I am honored to be here today for the opening of our new headquarters for Philips in China. China has long been of crucial strategic importance to Philips and we consider the country a second home market for Philips. We have a strong innovation, manufacturing and commercial footprint in China, powered by more
than 8,000 employees. Under the leadership of Mr. Andy Ho, the China team has integrated global and local innovation capabilities and resources based on the characteristics and needs of the market to build a local ecosystem and co-create targeted, digital solutions with partners and customers. With our advanced technologies, increasingly combined with intelligent informatics including artificial intelligence, we aim to improve the health of people in China," said Mr. Frans van Houten.
Three employee representatives were also invited to share their feelings about the relocation. Hongyu Zou is a veteran employee from HR who joined Philips in 1990. She has witnessed the evolution of Philips China over the past decades. Arlene Hu is a new recruit from Finance who represents new employees of Philips. She joined the company only this month. Gene Kwok comes from Patient Care and Monitoring Solutions. His birthday coincides with the date of the inauguration ceremony. Representing the glorious past and bright future of Philips, they shared their stories from different perspectives, using a simple language that struck a chord with all participants.
The ceremony was broadcast live by IT to allow those who could not attend to share the excitement. A variety of activities were also organized for celebration, such as selfie activities and flash mobs held on every floor. Small cakes were also provided. At 12:00 noon sharp, the long-awaited "Red Envelope Fight" kicked off. All colleagues immediately pulled out their smartphones to grab red envelopes. No matter how much cash the red envelope contained, everybody looked equally radiant.
The completion of the new campus represents a new start for Philips in China following its transformation to a health technology company, which is now built on a consolidation strengthened by "integration" and "digital innovation". From here, we will embark on a new journey. Guided by the collaborative "One Philips" spirit, we will take more solid and innovative strides. We believe when our collaboration has become truly seamless, Philips will definitely harvest a different future. Let's join hands together to make this day come earlier.