Thank you for joining Best of BenCham 2018!
It was a pleasure to welcome all of our distinguished guests at the Hyatt on the Bund last Thursday. A night all about celebrating the achievements of the Benelux Community. We truly hope you had an inspiring evening! 
We would like to express our gratitude to our Award Sponsors, KBC and Da Wo, and to our Event Sponsors, JinShan Industrial Zone, Royal Ahrend, and UCB, for their generosity. This night would not have been possible without them!
A special thank you to our In-Kind Sponsors; Domaine Constant-DuQuesnoy for the delicious wines throughout the evening, Halve Maan for the Belgian Specialty beers and Heineken for serving our guests premium beers all evening through. We would also to thank Lotus Bakeries and Maison Pierre Marcolini, winner of the KBC Best Company Award 2018, for the tasty Biscoff and haute-chocolate experience. And of course V-Coffee, for the premium 100% Arabica coffees. Lastly we would like to thank our Training Partners, Bright Management Consulting and Wise Wings, for their continuous support to the chamber and for guiding our finalists to perfect their performance on stage. The Award prizes are offered to our winners by Bright Management Consulting and ThrivingAsia.
And of course, you, our honored guests of the evening - it has been a pleasure to welcome you all, without your support and enthusiasm this night would not have been possible.
Special thanks to our guest speaker of the evening, Sven Agten. During this wonderful night Sven shared with us the highlights of the trends in the changing business climate in China. During his engaging speech he talked more about the cost of doing business and what to be aware of in the years to come.
And the winner is...
KBC Best Company Award
The KBC Best Company Award 2018 was taken home by Pierre Marcolini with a final result of 50% of the votes. Jeanne and Isa convinced the audience with their passion for chocolate and a delicious tasting opportunity. In second place finished Rabobank and in third place was one of our newest BenCham members: Unified Industrial. Congratulations to all finalists.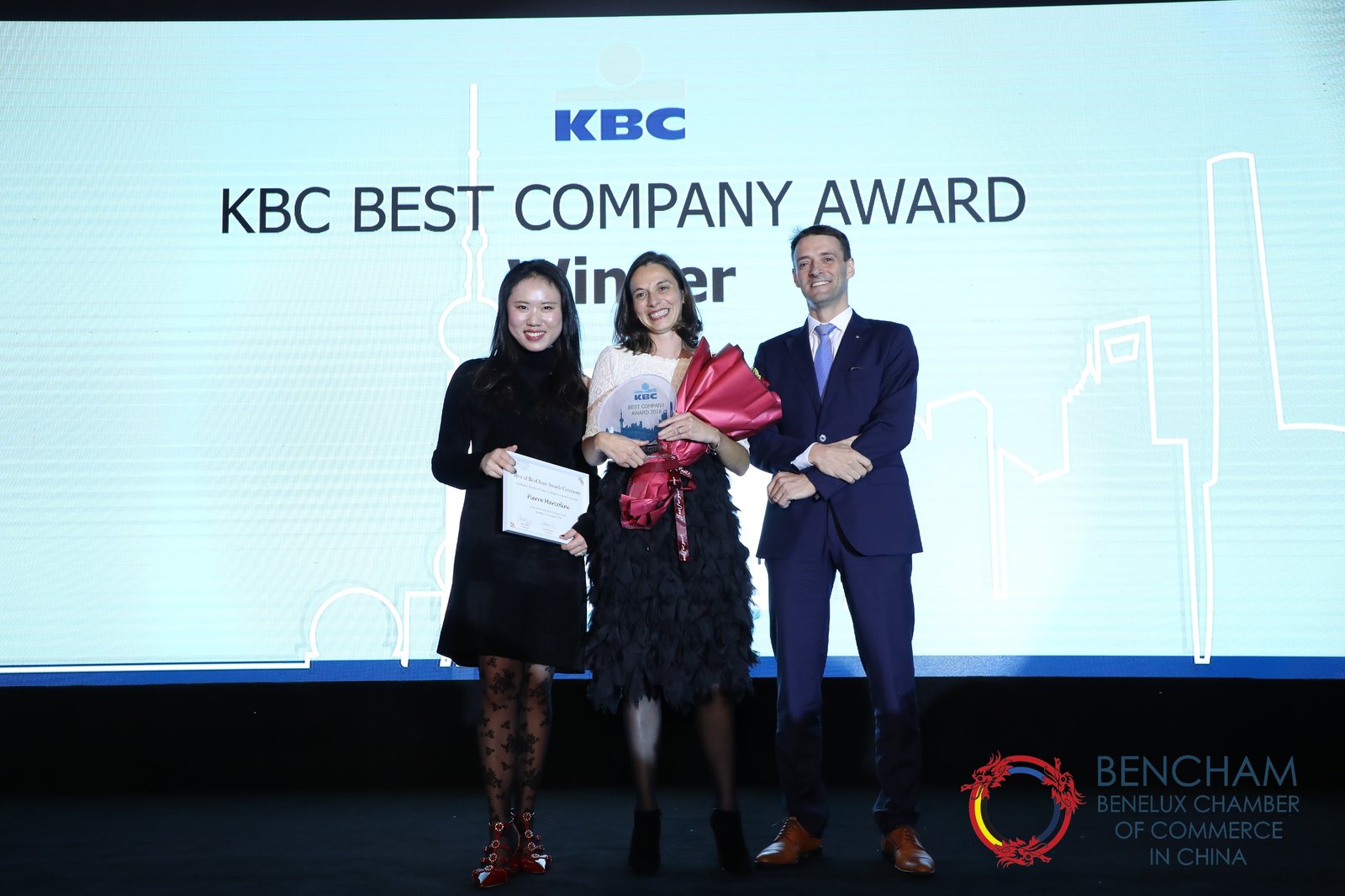 Da Wo Best Team Award
The winner for the Da Wo Best Team Award 2018 was Ridder with 44% of the votes. The dynamic duo captured the audience's attention by creating awareness about the food industry in China and the Benelux. Entrepreneur Liang Sun and his Generate took the second place thanks to his successful pre-voting campaign, followed in third place by Fireworks.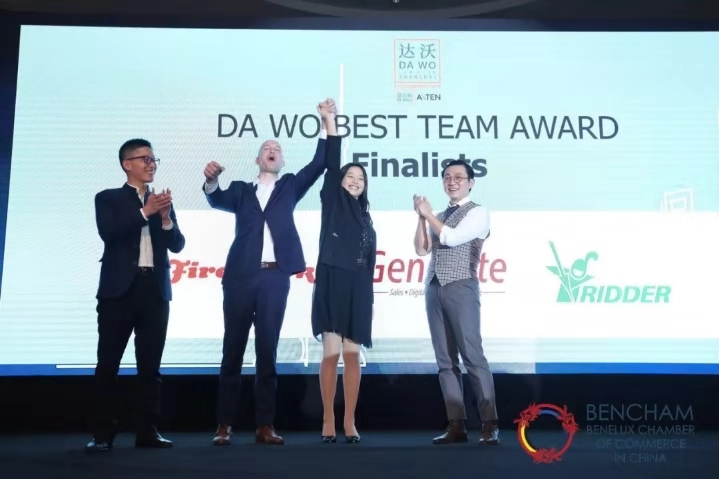 Personality of the year - Jonathan Cruysberghs
This year Mr. Jonathan Cruysberghs has been awarded the Personality of the Year award. Jonathan is a 35 year old Belgian Technology lover with a passion for the environment and sustainability.
As the CEO and Co-founder of Feiboa, a start-up that focuses on on-demand waste collection service in Shanghai, he further contributes to a more sustainable way of living. We truly believe that such initiatives should be shared and given visibility through our community's network. Do not hesitate to reach out to Jonathan; start and support sustainable living at your own scale in your residence, every step counts!